What's new about the Evolution tandem frames that were first presented at Eurobike in 2016?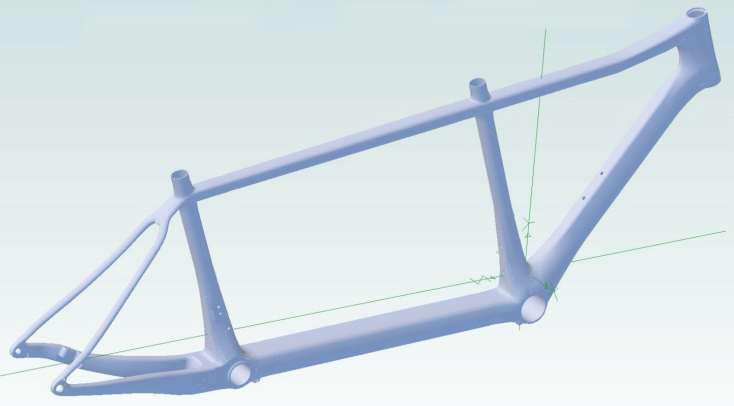 Besides Santana, several other American tandem manufacturers had already introduced the so-called "open frame design" for their higher-quality tandem frames. Since 2001, Santana uses this design already in the model "Smooth", but then had to determine that with the same tube dimensions as before, the lateral stiffness, without the "lateral tube", is about 15-20 % lower - so the frame also had less overall stiffness and efficiency.
Santana's new tube dimensions
In the following years, Santana developed new tube dimension - made possible by the new bottom bracket technology - BB386 (=86 mm shell). Until then, the shell width on Santana tandems was 73 mm, while most other manufacturers continued to use shell widths as narrow as 68 mm.As with all Santana tube sets, the new frame tubes are double-butted (thick at the ends and thin everywhere else), making them lighter, more durable and more comfortable. The frames became with the new design around 20-25 % lighter with comparable stiffness, efficiency as well as additionally noticeably better comfort.
The frame material steel has become obsolete in the new dimensions, because here the wall thickness gets too thin (below 0.3 mm) and thus the risk of dents increases or the frame becomes too heavy.
The head tube has a diameter of 1 1/2 ", which now allows all tapered forks (bottom 1 1/2 " to top 1 1/8 "), as well as the 1 1/4 " forks, can be installed.
With the new bottom bracket / crank generation you save another kilogram of weight while increasing frame stiffness!
More about the history of tandem tube sets
To qualify frame performance, Santana produced the world's only tandem-sized version of the standard test fixture used by leading builders. In 1983, using the fixture, Santana developed a new frame design called the direct lateral – a design now used today on over 95% of the world's lightweight tandems. It was only since Santana developed the "Open Frame Design" with the larger tube dimensions in 2016 that this led to the replacement of the previously unattained comfort, efficiency and weight/stability ratio of the "Direct Lateral" frame design.
Tandem-Specific Frame Design
Most people's initial appreciation of tandems lies with paint and components. Unfortunately, the battle is won or lost before the paint is applied. To provide a bike that seamlessly combines the efforts of two riders, is pleasurable to ride, climbs with ease and descends with stability, builders have to do their homework. When it comes to materials development, benchmark testing, rider input, models introduced, and industry firsts, Santana is the undisputed leader.
Advantage of custom drawn tandem-specific tubing
Single bikes outnumber tandems by more than 1.000:1. As a result, bicycle tubing manufacturers do not produce tandem tube sets. Unless tandem builders pay the development costs for a custom-drawn tandem-specific tube set, they have to use what's commonly available. Because tandems produced from single bike tubing are not stiff enough to be stable, conscientious builders must provide stiffer tubing. There are two ways to make a tube stiffer-increase its wall thickness or its diameter. While thicker tubes are only proportional stiffer, a larger tube produces a cubed increase in stiffness (20% larger = 73% stiffer). Ordinarily, large-diameter butted tubes are unavailable, so most tandem builders resort to "aircraft" tubing. While this sounds high-tech, "aircraft" merely indicates a minimal standard. Besides being to heavy for air planes, "aircraft" tubing is also too heavy for lightweight tandems.
What is butted tubing?
On a bicycle frame (or any structure), stress concentrates at the joints. When the joints are at corners, stress is intensified. At welded joints, there is further stress at the edge of the heat-affected zones. It's no wonder bicycle frames break at the edge of the weld- this is where three types of stress converge (joint, corner & heat). To combat this inherent weak spot in welded frame tubes, designers specify a heavy wall thickness. However, the thickness requirements of the ends exacts a large a large weight penalty on the rest of the tube. Besides the weight penalty, thicker tubes also yield a harsher and less responsive ride. The answer is double-butted tubing- thick at the ends and thin in the midsection. Besides saving weight and improving comfort, double-butted tubing is fatigue resistance. Because a thin-walled center section can absorb stress that would otherwise concentrate at the joints. So the ends of properly designed butted tubing can be thinner than a unbutted tube doing the same job. This explains how our 8/5/8 tubes (.8mm at the ends and .5mm in the middle section) can dissipate stress better (and last longer) than tandems build from much heavier 11/11/11 (1.1mm) "aircraft" tubing.
Seamed vs. seamless tubing
Seamed tubing is formed by rolling flat strip stock into a tube and than welding the edges together. Although the resulting weld is a full length stress riser, the good news seamed tubing is cheap. Conversely, the expensive multiple drawing (pulling) operations which transforms a solid 30 feet billet of steel or aluminium into more than a mile of thin wall seamless tubing work hardens the alloy and improves the grain strength make seamless tubes nearly 20% stronger. While all respected bicycle builders acknowledge the superiority of seamless tubing by using it in their single bikes, when it comes to tandems they fall back to cheaper, heavier and weaker seamed tubing.
Santana uses on all materials these custom made Tandem specific Tubesets where every tube is optimally double-butted, tapered and ovalized.
Superior alloys
Another way we improve efficiency it through the use or superior alloys. Our aluminium tandems, for example, are made from an alloy that's 56% stronger than what some of our competitors use. To create stronger, lighter and more comfortable frames we use the highest grade of alloy in every category of materials.
The lightest tandems?
Most of the weight we save with our butted thin wall tubing is reinvested in larger and more efficient tubing, more reliable tandem-specific wheels and components, and the largest and safest forks in the business.
Lasting Protection
Because we don't want to limit your fun, Santana was the first bicycle manufacturer to specifically allow what most other warrantees still exclude - racing and off-roading. All Santana frames are fully waranted to the original owner against defects in materials and workmanship with no time limit.
Conclusion
No builder can escape the limitations imposed by inferior materials. How does a tandem (even an expensive "custom" tandem) build with unbutted tubing compare to an entry-level Santana using double-butted tandem-specific tubing? Our steel tandem frame weight less than some competitors aluminium frames. Test ride a Santana and discover the difference for yourselves.
The critical role of tandem forks
Besides doubled rider weight, other unexpected factors make a tandem fork work 4-5 times harder than a single bike fork. First, tandem forks take more hits. On single bike we "lift and sail" over bumps to reduce the impact- tandem forks, however, must withstand the full force of every bump. Second, because tandems descend up to 40% faster, the force required to stop a tandem (f=m*v²) is 400% as a single bike descending the same hill. Finally, while front brakes provide 80% of the stopping power on all vehicles, a single bike's braking is constrained by weight distribution (brake too hard and you sail over the handlebars). So, tandems can offer safe panic stops from high speed only if the fork can withstand the additional forces without shuddering or failing. This is why our forks are so beefy and costly.
#1 Evolution-sized head tube
Instead of a too-small head tube with innocuous machined edges, Santana's head tube get its strength from a diameter that allows stronger Evolution 1 1/4" sized headset, fork and front stem.
#2 Integral Cable adjusters
Santana designed special braze-ons and moved the adjusters up front to allow captains to fine-tune derailleur indexing and rear braking - easyly and comfortably, while riding.
#3 Easy-adjusting eccentric and double-butted Bottom bracket shells
For greater frame integrity and 225gr savings Santana is using double butted bottom bracket shell.

#4 Round top and lateral tubes
Some builders ovalize top and lateral tubes even though torsional rigidity in these areas is essential. Tests prove this misplaced ovals add weight and rob performance.
#5 Oval bottom tubes
Exploiting the full width of the bottom brackets, the world's only double-butted oval bottom tubes are twice as stiff for drivetrain efficiency, able to absorb more road or unbutted ovals and 200gr lighter than other ovals.
#6 Rack and mudguard capability
Santana uses threaded fittings for attaching front and rear racks and mudguards, including double sided mid-fork brazeons to install stiffer and lighter lowriders (tubus duo).
#7 New Third Brake Braze-On
To add a third brake to a tandem you'll sometimes have to modify your frame and buy a ned wheel. With the correct hub, frame clearamde amd Santana's new platform-style brazeon you can install various brands of disc brakes or the venerable Arai drum brake.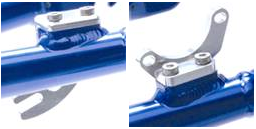 #8 160 mm frame spacing
Santana 8/9-times symmetric tandemhub: 160mm spacing with larger clearance (60mm) between the flanges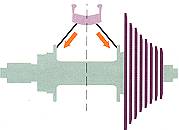 Because "dishless" (symmetric) wheels with widely separated flanges are 30-80% stronger, Santana's frames are built to accomodate them. Further, 160 mm allows the clearance you need for larger discs.

Tapered Down Tubes to increase bottom bracket rigidity and perserve comfort, all steel and aluminium models now use conically tapered double butted down tubes

Santana's quad-butted aluminium seatstays

Santana's Monster Chainstays CrMo 35x23 mm; Alu 43x26 mm

Double-butted tubing is lighter, stronger and more comfortable