---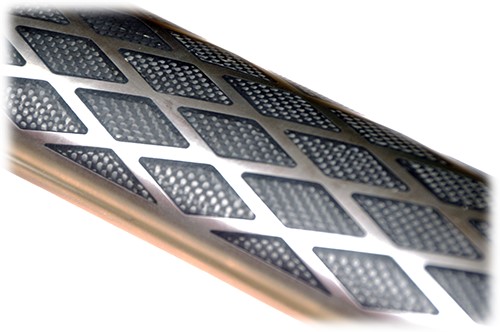 ExoGrid® is the further development of IsoGrid®.
Due to the new, wider dimensioned bottom brackets and down tubes, the wall thickness of the tubes is reduced to up to 0.45 mm. It follows that an integrated tube consisting solely of carbon would no longer have the necessary strength.
For this reason, Santana has been using ExoGrid® technology since 2010, in which the tubes consisting of titanium, instead of being completely punctuated by carbon in the past, are merely supplemented by cutouts (diamond pattern, lettering, etc.). A carbon tube is then fused to the titanium ribs from the inside out under high pressure using the patented Bi/Fusion™ process. The number of carbon layers can also be adjusted in cross-section to the actual loads. With a continuous butted titanium tube, the wall thickness is always the same in cross-section.
The stiffening property of the carbon thus increases the torque stiffness, while the bending stiffness remains largely unchanged. The result is a frame that is just as stiff as the previously used IsoGrid® despite thinner wall thickness, but which is significantly more comfortable thanks to the remaining titanium ribs.
The best thing about the composite of the two materials is that the vibrations that occur in the frame during a ride cancel each other out. As previously with the IsoGrid® used, the magic vibration damping property still remains and spares our muscles with the tiring vibrations on longer tours.
In addition, the titanium-carbon combination reduces the weight of the tandem frame to just 2.5 kg. Besides, the ExoGrid® complements the appearance of the tandem frame with its stylish look.
Conclusion: A titanium/carbon ExoGrid® frame will be the lightest, stiffest and at the same time most comfortable frame you have ever ridden.