Designed and built exclusively for Santana, the Airliner SafeCase is a tough vault-like case with thick foam lining, interlocking edges, full length hinge, locking hasps and industrial strength casters. Size: 69 x 84 x 36 cm
Video: How to pack a Santana eSCape Tandem in the Airliner case.
Video: How to pack a fully equipped Santana Touring Tandem in the Airliner case.
How to disassemble?
Remove timing chain by turning the cranks back and sidwise push on the chain.
Shift into largest cog an chainring and than shift back without turning cranks.
Disconnect shift cables (are loose 2.) and also brake cables. For Formula disc unscrew the 2 main screws 5mm allenkey at the Caliper and the Mastercylinder.
Remove (pedals) &cranksarms with the 8mm allenkey using the auto-extracting bolts.
Unscrew shift cable adjusters at downtube and take cables out of the slot.
Remove ahead cap of fork top & slide the captains bar with the stem off the top.
Remove seatposts, disconnect stokerstem, front & rear wheel and remove QR.
Loosen all S&S Couplers (3 turns) and remove the oval bottom tube 5mm allenkey.
Disconnect the frame on one side first and than remove the tubes. Also remove all accessoires racks etc.
10. Insert the dissassembled pieces of your tandem into the matching die-cut recesses of the optional FTS.
Packing with no FTS add 15 minutes: Wrap the tubes with the including material at all contact points.
Place the tandem frame's front triangle in its case with fork turned inward.
As this, and each following layer is added, wrap and pad as necessary.
Place the rear triangle with rear wheel with rear deraileur down (padding) on top.
Place all parts, seats, handlebars, tubes, cranks where convenient. and place the foam on top
Place the front wheel on top.
Assembly
Connect top and lateraltube to rear triangle (look for cable routings and bottlecages)
Connect front triangle to the top and lateraltube.
Insert the oval bottom tube (look for disc cable routing on left side).
Tighten all S&S Couplers (30-40Nm) and the 2 allen bolts. Use on the Couplingscrews and bolts the special teflon lube that comes with the bike. Continue with #7 backwise.
Control all couplers and main screws before every ride.
Airliner SaveCase with FTS foam the six Layer die-cut foam elements wraping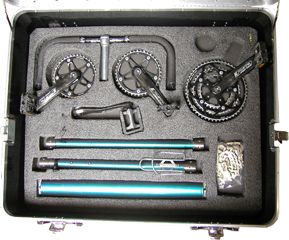 picture with 8coupler (like aluminium)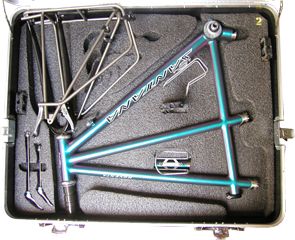 the cutting for the rear-rack is not standard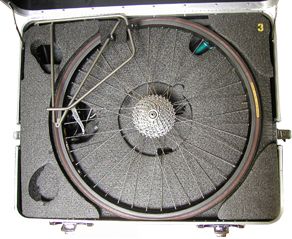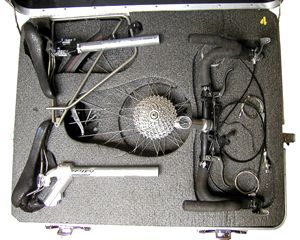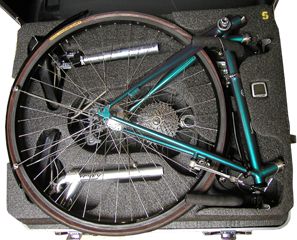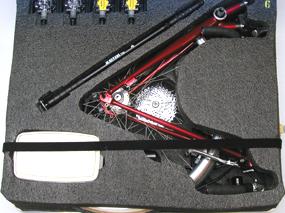 Use standard Allen wrenches 5/6/8mm, pedal wrench and included S$S tool